At INITA, Chef Kunihiro Hagimoto uses Italian cuisine as his canvas,
local Taiwanese ingredients as his colors,
and paints with imagination accumulated over 20 years in Japan and Italy.
Chef Kuni's cuisine utilizes Italian cuisine as a starting point,
incorporating his Japanese roots to communicate his passion and philosophy,
often with beautiful stories and imagery.
在INITA,萩本郡大主廚通過食物與客人對話
以義大利料理為起點,加入身為日本人的根源
佐以台灣在地食材和文化經驗點綴
透過對美食的熱情,烹飪出動人的故事和美麗的菜色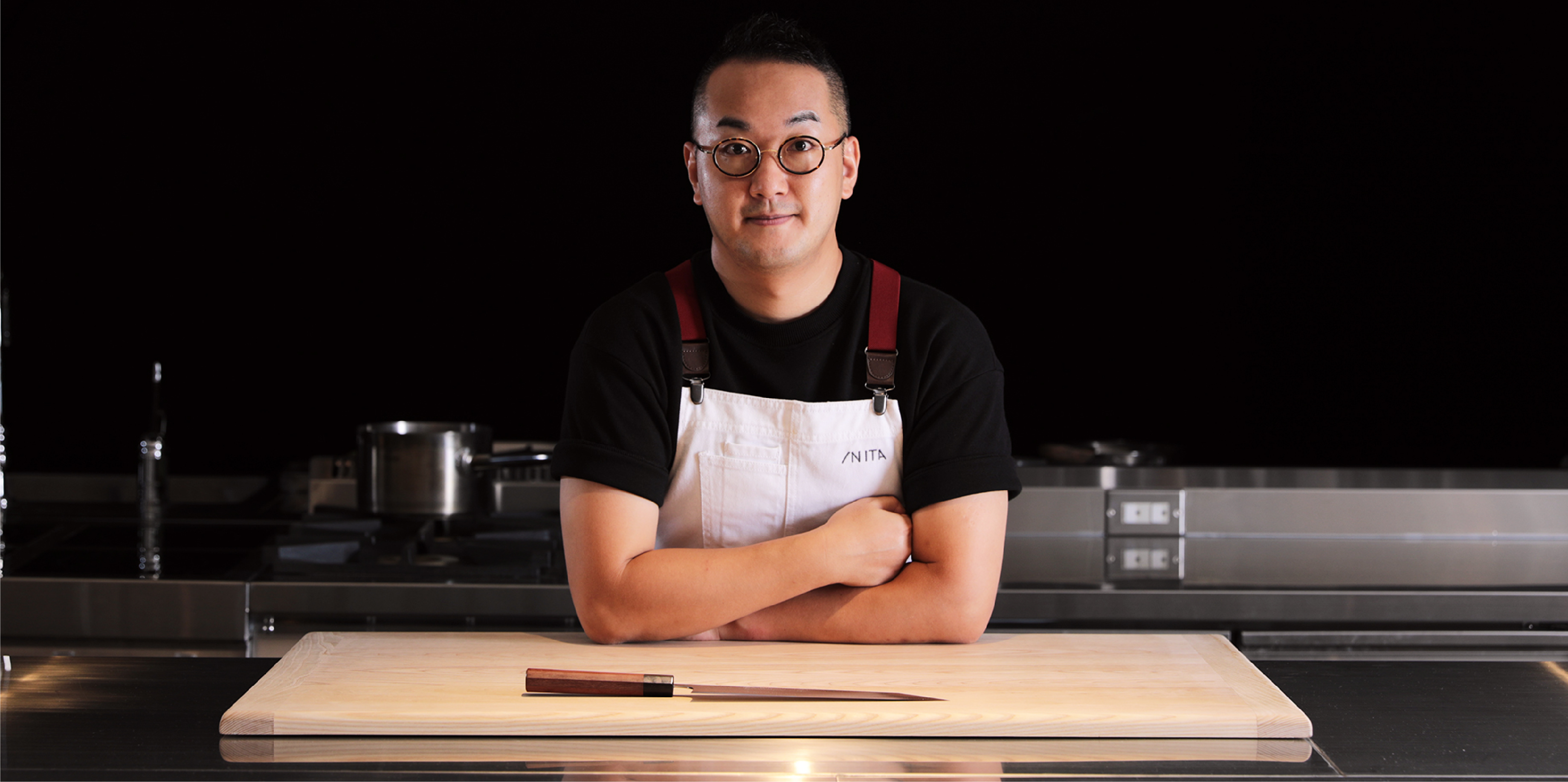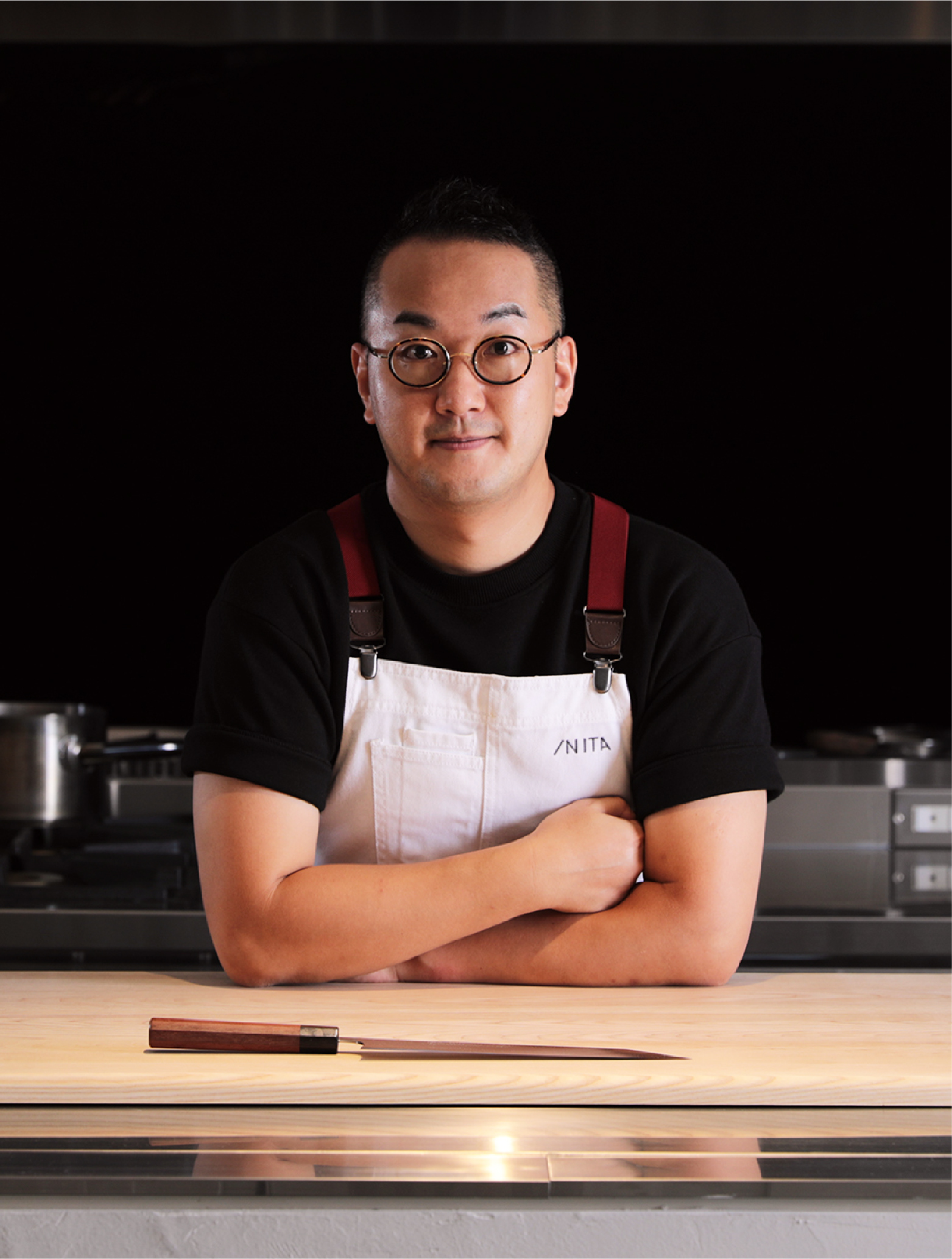 Originally from Osaka, Chef Kunihiro Hagimoto is a passionate chef with over 20 years of Italian culinary experience, and has lived in Italy for 8 years in Bologna, Puglia, Ancona, Napoli, and most recently Milan.
Before moving to Taiwan, Chef Kuni was the Sous Chef of Ristorante Tokuyoshi (Michelin 1 Star) in Milan. Prior to working with Chef Tokuyoshi, Chef Kuni was one of the Head Chefs at Eataly Milano Smeraldo, and before that had worked at Clandestino Susci Bar with Chef Moreno Cederoni and Federico Zanasi, and the legendary Trattoria da Amerigo (Gambero Rosso 3 Shrimps, Michelin 1 Star).
Chef Kuni's love story with Taiwan began in 2017, through the opportunity offered by Chef Tokuyoshi to run his pop-up restaurant "TABLE by Yoji Tokuyoshi" in Taipei. During this seven-month pop-up, he had made many new friends and experienced the Taiwanese people's warm hospitality, and best of all, found the identity of his own cuisine. After returning to Milan, Chef Kuni could not stop thinking about the lovely country that received him with open arms.
In February 2020, Chef Kuni decided to marry his wife and settle down in Taiwan to realize his dream of opening his own restaurant. As a starting point, he first founded Studio Kyu Kyu in May 2020, which was an intimate space where people could experience traditional "fatto a mano" pas ta-making. After the one year anniversary of Studio Kyu Kyu, Chef Kuni felt he was ready to finally begin building INITA
來自日本大阪的萩本郡大主廚擁有超過20年的豐富義大利料理資歷,先前曾在義大利的波隆那、普利亞、安科納、拿坡里,以及米蘭等城市工作8年。
在移居台灣前,他是米蘭米其林一星餐廳Ristorante Tokuyoshi副主廚,也曾在Eataly Milano Smeraldo擔任主廚、與名廚Moreno Cederoni和Federico Zanasi在Clandestino Susci Bar一起共事,以及為擁有三隻紅蝦、米其林一星肯定的Trattoria da Amerigo效力。
萩本主廚與台灣的緣分始於2017年,他與德吉洋二主廚一同受邀到台北進行為期七個月的快閃客座餐廳「TABLE by Yoji Tokuyoshi」。在這段期間他結交了許多新朋友,並且體驗到台灣人的熱情,更重要的是啟發了他獨特的料理哲學。回到米蘭之後他依舊無法忘懷這個給予他溫暖和眾多回憶的地方,這段際遇就此延續下去。
在2020年2月,萩本主廚決定與妻子結婚並且移居台灣,完成他擁有自己餐廳的夢想。在五月中旬先開設Studio Kyu Kyu,一個以手作義大利麵教學為主軸的料理空間。在Studio Kyu Kyu滿一週年之際,萩本主廚也正在悄悄啟動了INITA餐廳的計畫。